Welcome to Faculty Profile
The Faculty Profile is a website editing application that enables faculty members to update their individual professional websites,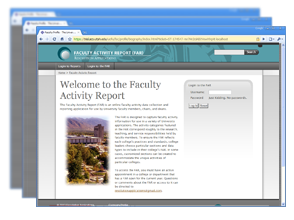 which are linked from several campus websites including the public Find a Faculty site, and various other campus sites. In addition, some departments and colleges will soon be linking to these sites to provide up-to-date faculty information to the public.

For the convenience of faculty members, selected information is pre-populated from various sources. These include institutional campus sources and the Faculty Activity Report. Edits made in the Faculty Profile application automatically carry over to the FAR, and vice versa.

To edit your Faculty Profile, you must have an active appointment in a college or department. Questions or comments about the Faculty Profile or access to it can be directed to the FAR Helpdesk.
To edit your profile, click the button below and sign on through the central authentication system.